The holiday season is an especially important time to support Idaho's growers, winemakers and business owners. Throughout December, we encourage you to tune into our social media channels where we'll spotlight 12 different ways to experience or gift Idaho Wine. From holiday events, wine tours, group tastings, custom glassware, gift boxes and more, we've got you covered with recommendations to sip local and gift local for the holiday.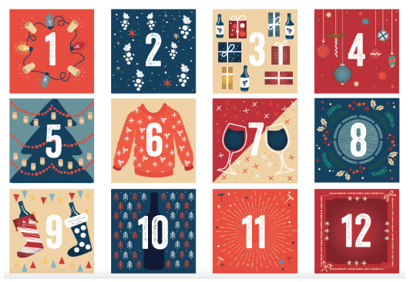 Day 1: Vizcaya Winery 🍷🎄
Vizcaya Winery's Holiday Bazaar Show is a great way to evoke the holiday spirit and support local winemakers and artisans. Stop by the wine processing building on Dec. 10 from noon-5pm for the art show, wine tasting, food and $10 growler fills! Plus, don't miss Vizcaya's holiday wine discounts.
Day 2: Telaya Wine Co. 🍷🎁
Telaya Wine's carefully curated wine set gift boxes and to-go tasting kits are the perfect way to please every type of wine drinker. From classic holiday reds, to bright lighter wines, Telaya offers more than 10 different gift boxes at an affordable price.
Day 3: Indian Creek Winery🍷✨
Indian Creek Winery's custom-made glassware is a thoughtful way to celebrate the season and a gift that can be used for years to come. Choose your ink color, two-sided or one-sided printing and the custom artwork can be created for you at the winery. Just allow for two weeks turnaround time!
Day 4: Pend d'Oreille Winery🍷🎨
Pend d'Oreille Winery's Holiday Paint and Sip with Lori Salisbury is a fantastic way to spend quality time with your loved ones this season. Mark your calendar for Tuesday, Dec. 13, from 5:30-7:30pm to create a whimsical winter wonderland scene, while enjoying a glass of house red or house white wine. Supplies and instructions and instructions are provided!
Day 5: Idaho Preferred🍷🎁
The Idaho Preferred Holiday Gift Box showcases the best of Idaho's agriculturally crafted products from local winemakers, farmers, dairymen and crafters, together in a one-of-a-kind sampler experience. There's no better way to support local and share a bit of Idaho with loved ones this season!
Day 6: Coiled Wines🍷❄️
Coiled Wines is hosting holiday bingo & a white elephant gift exchange! Gather your friends and family for a fun and festive night of bingo with a gift swap to follow. Guests are encouraged to bring a playful gift in the $20 range. The event will take place on Thursday, Dec. 15, from 5:30-8:30pm. Get there early to reserve your spot!
Day 7: Fujishin Family Cellars🍷⛄
Fujishin Cellars' small-group tasting experiences are a great way to support a local winery, spend quality time with friends/family and learn something new! Gather a group of up to 6 people and reserve a tasting and charcuterie experience led by Fujishin's expert winemakers this season.
Day 8: Sawtooth Winery🍷🍾
Sawtooth Winery's wine club membership is an ideal gift for the wine lover in your life. The membership opens the door to exclusive pricing on award-winning wines, special members-only events, members-only wine flight discounts and early access to new wine releases. Sawtooth even offers a variety of different membership options to choose from, like the new mimosa club, custom case club and more.
Day 9: Ste. Chapelle Winery 🍷🥂
Ste. Chapelle Winery's sparkling cocktail kit is perfect for the mixologist in your life! This travel-friendly kit includes top-shelf ingredients and the instructions needed to mix up some fun sparkling cocktails with a bottle of NV Open Air Brut, aromatic bitters, sugar cubes and a champagne flute.
Day 10: Snake River Wine Tour🍷🚐
Snake River Wine Tours was voted the #1 Wine Tour in the Country by USA Today in 2022! This one-of-a-kind gift gives guests an unforgettable ride through The Sunnyslope Wine Trail, home to over 15 wineries, offering award-winning wines and unique tasting experiences. Led by an experienced tour guide, up to 14 guests can relax and safely enjoy the wonderful wines that our region has to offer.

Day 11: FARE Idaho🍷🍽️
FARE Idaho is hosting the inaugural Field to Fork Festival on Thursday, Jan. 19, in the heart of downtown Boise. This interactive trade fair is the perfect gift for the chef or food lover in your life, bringing together Idaho's independent food and beverage industry professionals, including winemakers, farmers, ranchers/livestock producers, food producers and retailers in one place! Attendees can shop the local products and participate in chef-led classes using fresh, locally-grown ingredients.
Day 12: Winery Gift Cards🍷💳
If you're in need of a last-minute stocking stuffer, gift cards are a fantastic way to support local wineries and offer endless possibilities for the wine lover in your life. Whether you buy gift cards from one location or select a few favorites, your loved one will enjoy the freedom to purchase a bottle, tasting, tour, glassware or swag items of their choice! A few wineries that offer digital gift cards include: Koenig Vineyards, Huston Vineyards, SCORIA Vineyards and more.
Please celebrate responsibly. Wishing you all a safe and happy holiday season!
- The Idaho Wine Commission