5 ways to wine it up this spring & summer
Posted by Idaho Wine Commission on March 17 2021
After a year stuck inside, life is starting to open up again. And it couldn't come at a better time. Spring, the season of rebirth, has arrived. And summer, with all its warmth and long days filled with never-ending sunshine, is right behind it. For wine lovers, adventurers, dreamers and others, there's no better time to get out and explore Idaho than now. So, lose the sweats and grab your gear. It's time to come out of hibernation and have some fun. In case you've forgotten how to have fun, here are five Idahocentric ideas to get you in the mood for fun.
Come as you are
Everywhere
For everything about wine in Idaho, there's only one place to turn. Our new 2021 Tour Brochure is a generous pour of information on every wine region, every winery and cidery, and juicy tidbits about the state of the industry. When it comes to wine, this is the first place to turn for things to do, places to visit and important dates for uncorking a bottle or two.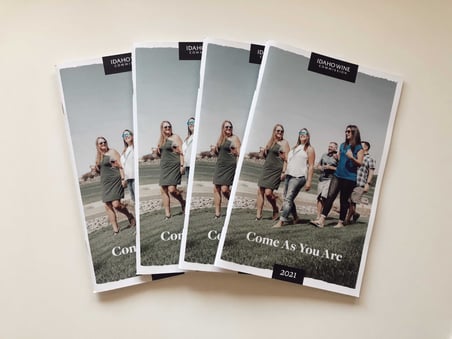 Go on a wine tour
Snake River & Sunnyslope regions
A winery tour is always a good idea. One of the best ways to learn about wine is to visit many different wineries to see the vineyards and meet the winemakers themselves. And there's no better way to plan your visits and make the most of your time than by going on a wine tour. Best of all, the designated driver is built-in! In Idaho, there are several tours to choose from.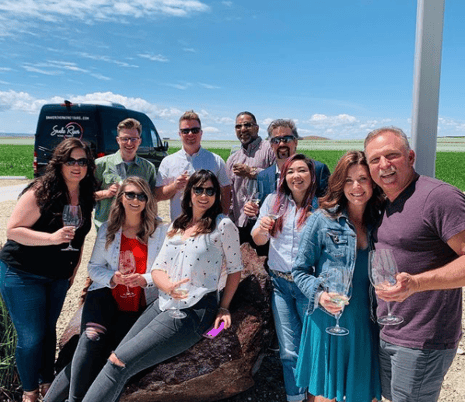 Photo credit: Snake River Wine Tours
Camp in a vineyard
Lindsay Creek Vineyards & Y Knot Winery
It seems like everyone's talking about the Golden Globe-winning Nomadland, which examines a group of modern-day nomads living inside their RVs and camper vans. Now, we don't recommend you sell your home and hit the road permanently. (Although, that's cool if you do.) But we do fully endorse packing up your caravan for an entirely new and freeing camping experience – not at your local campground but at an actual Idaho vineyard! Taking a walk in a vineyard while enjoying a bottle of wine, getting close to nature, and watching the sunset without another soul in sight are perks you won't get at most campgrounds, where campers tend to be crowded together. Book your experience at the expansive Lindsay Creek Vineyards in Lewiston, through Harvest Hosts, a network of wineries, breweries, distilleries, farms, and attractions. Owned and operated by brothers Art and Doug McIntosh and their wives, Michelle and Brenda, Lindsay Creek is known for its award-winning wines, open space and festive events. And at the other end of the state in the Snake River Valley AVA, there's Y Knot Winery, which is home to the winery, restaurant and tavern, and even a golf course. The RV Park is located directly across the street from the winery – offering sweeping views, large shade trees, full hook-ups for both large and small units, and direct access to the golf course. Reservations can be made through Hipcamp, which is like Airbnb for the RV set.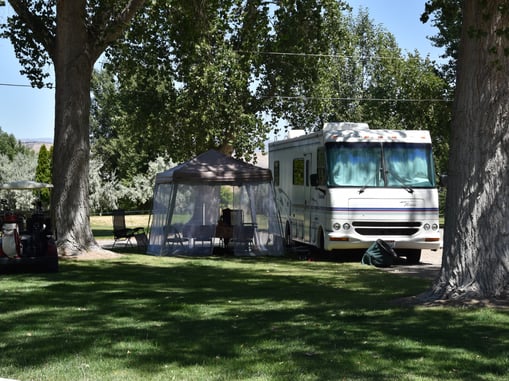 Photo credit: Y Knot Winery
Go glamping
Sawtooth Winery
So, camping in an RV is one thing. Now, imagine a completely new level of comfort and luxury inside a glamping tent at the breathtakingly beautiful Sawtooth Winery, which best celebrates Idaho's rugged outdoor landscape and pioneering spirit. At Sawtooth, you can enjoy all the pleasures of camping without lugging all the gear. Each of the six new canvas tents come equipped with hotel-like amenities, including bed frames with queen-sized mattresses and luxurious Parachute linens and robes, outdoor dining and lounge furniture, YETI cooler, laminate hardwood floors, solar-powered lighting, device charging outlets, a private en-suite bathroom with a walk-in shower, flushing toilet, mirror, Co. Bigelow premium toiletries, sink with hot and cold running water and so much more! And since no visit to Sawtooth would be complete without wine, every tent will have a wine menu to stock up for your stay. Sawtooth officially will start hosting guests on May 1st, 2021, so reserve your tent today and sleep under the stars this summer!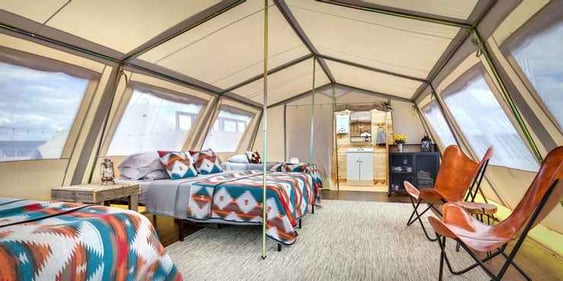 Photo credit: Sawtooth Winery
Explore urban wineries on the Greenbelt
Boise
When people think about wine tasting, they imagine driving to remote regions to drink wine on a sprawling estate surrounded by lush vineyards for as far as the eye can see. And, yes, you can do that. Or you can just grab your bike (or rent one if you're out of town; almost every downtown hotel offers cheap rentals) and head down to Garden City in downtown Boise, which informally and affectionately has come to be known as the "Southwest Urban wine region." Here, the beloved Boise River Greenbelt – a 25-mile cyclist and pedestrian tree-lined trail that runs along the eponymous Boise River – snakes its way along some of the city's most popular riverside parks, collectively are known as the Ribbon of Jewels. But for wine lovers, the real jewels are the assortment of wineries and cideries that can be found along the way, including Coiled Wines, Cinder Wines, Split Rail Winery, Telaya Wine Co. and Potter Wines. Due to its proliferation of diverse cuisine, art, culture, and outdoor recreation, it's the perfect place to sip and sample with friends. Check out the map of urban wineries below to help you know exactly where to go.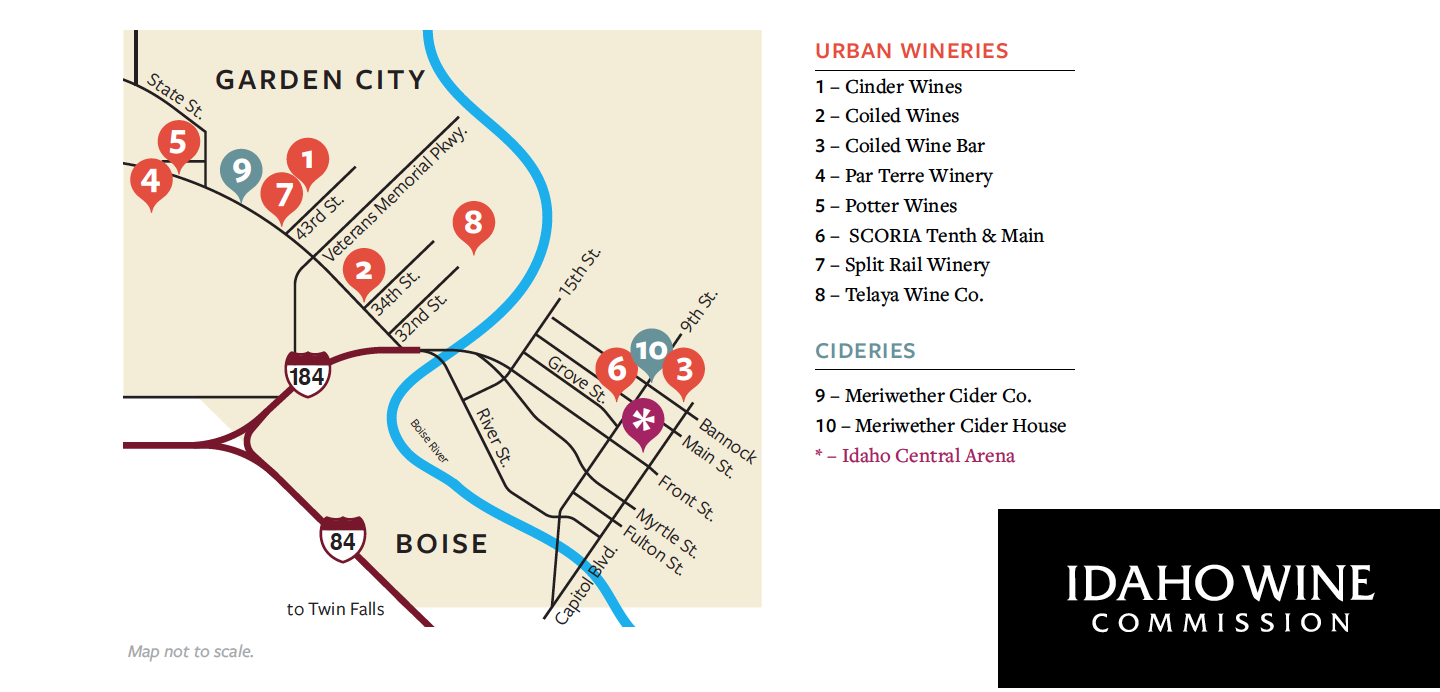 Take Idaho wine home
In the air / on the road
No matter what you do, you'll probably find a few favorite wines you won't want to part with. Don't be shy. Wine makes for the best souvenirs. If flying, the first important step is knowing TSA policies for packing alcohol. It's also good to review the policies of your airline, especially since many airline employees aren't familiar with their own policies. Alaska Airlines offers "Idaho Wines Fly Free" from Boise (BOI), Spokane (GEG) and Pullman (PUW) airports to all destinations in the United States. For road trippers, put your wardrobe to work for you. Place bottles inside sweaters or jackets. Then roll them up. Use exposed sleeves to wrap around the neck for extra protection. The neck is the most vulnerable part of the bottle. Once you've got your bottle (or bottles) all wrapped up, pack them snuggly inside your suitcase – keeping them away from the sides to prevent impact. A better option may be to pick up a travel bag, tote or carrier for extra protection. Just remember, during the summer wine can spoil quickly. Keep it out of the trunk. Unless it's already been opened. Re-corked wine is considered an open container and should never be in the cabin of your car.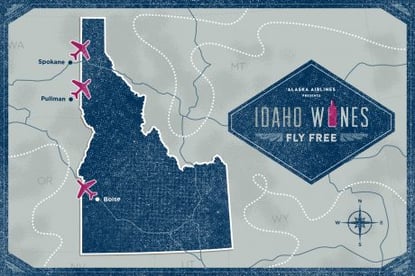 Sign up for more
Do you enjoy finding out new things about wine — and maybe a little something about yourself in the process? Then sign up to the blog and never miss another post, winemaker profile and other exclusive content from the Idaho Wine Commission.
Stay Connected
Get more information about Idaho wines, upcoming events, special offers and other exclusive content from the Idaho Wine Commission.