When Mark and Lori Pasculli met, they were just a couple of kids from the country working in a restaurant in California's central valley. Little did they know, some three decades later, they would found one of Idaho's newest vineyard and wineries, Rolling Hills Vineyard, with their kids and two dogs, Bandit and Bleu.
The dream of owning a winery may have been far off in the future. But a shared love of the land was always in their hearts. "We're both drawn to agriculture," says Mark. "We were raised in the country. Even as a kid, I never lived on a paved road until I moved to California."
Lori grew up on a vineyard that produced table grapes and raisins. However, they did not make any wine themselves. At least, not officially. Unofficially, her grandfather did reserve some fruit to make small batches as a hobby now and then. "We still have the very last empty bottle," Mark remembers. But it was always just for fun.
Getting back to their roots
Around the mid-90s, Mark (a CPA and a lawyer by trade) was working at a large manufacturing company. He was doing well, but something was missing. Together, he and Lori decided they needed to be closer to the land.
"It was just a lifestyle choice," he explains.
They settled on a 26-acre farm where they grew peaches and plums. They were in the Central Valley—the workhorse of California's wine industry—and Mark and Lori would frequently make trips to wine country (true to their roots, they preferred the laid-back vibe of Sonoma to the glamor and glitz of Napa) to sample the fruits of the region and the beauty of the land.
They were closer to their future, but the idea of making wines was still a faraway dream.
From construction work to Cab Franc
In 2003, the Pascullis made another big change. They purchased a restoration and construction company and relocated to McCall, Idaho. Starting with two locations, they quickly expanded to a half-dozen branches around the state.
By that time, the Idaho wine industry was just springing back to life with about 11 wineries and vineyards being planted. They watched the industry grow and prosper from the sidelines. Living in McCall, "you can grow feed and starter potatoes, but that's about it," Mark describes.
Over the next few years, they talked casually about joining the wine biz, but it was all idle chatter. Until it wasn't. After nearly a decade after moving to Idaho, they left McCall to look for land in the Eagle Foothills AVA. They found a property with a few acres of Cabernet Franc already in the ground. They tore down the old farmhouse and built a new one. Between 2016 and 17, they planted a couple of additional acres with Syrah and Tempranillo, purchased in Western Washington.
They began shedding the branches of their construction businesses. Step by step, the dream was becoming a reality. But there was still a long way to go.
The big business of being small
In 2018, things reached the tipping point. "We said, 'Okay, why don't we go from just growing to actually making the wine, bottling and selling it,'" Mark retells.
With only about five acres in total, the decision was just as much practical as it was emotional.
"Farming small acres, it's hard to make money," Mark explains, adding. "To get quality, there are so many things you have to pay attention to. If you want to make money off it, you bottle your own wine."
To help cover costs, "We buy well beyond just what we make," Mark describes. For example, they don't grow any whites, so they source all those varietals from other growers. Same for the reds, some of which they use for blending or standalone wines.
A collaborative community comes through
Building a business doesn't happen overnight. And it doesn't happen in a vacuum either.

Their new Tasting Room in Garden City won't open until June. So, for the actual business of crushing and bottling their grapes, they had to look elsewhere, turning to a familiar name: Koenig Vineyards.
"There are a handful of companies around here that are big enough to open their facility to other wineries who don't yet have their own facility and help make the wine," Mark explains.
Koenig is a big one, supporting about five future Idaho winemakers there. But they aren't the only ones. The Pascullis have received support from a long list of Idaho winemaking legends, including Martin Fujishin at Fujishin Family Cellars and Greg Koenig himself.
To bring out the best of their wines, Mark and Lori also work with winemaking consultants. "A lot of the process is making sure you're actually doing the right things to draw the characters out of the wine," says Mark.
Same for the vineyard. "We have a vineyard consultant and laborers we use for pruning and harvesting," he adds. "But I manage the day-to-day operation, the fruit contracts and everything we buy."
The support has been as much about navigating red tape as crushing grapes. There are Federal, state, county, city and alcohol licenses to get. To help them sort through all the bureaucratic red tape, it takes a winemaking community.
"In this industry, something that you really kind of appreciate is everybody's really helpful. It's a very collaborative community," says Mark. "And the nice thing about it is, on one hand, you're competitors. But on the other hand, it's the type of industry that when each individual winery does better the whole industry gets better."
Success rolls in
Once the Rolling Hills tasting room is complete, they can finally begin selling their wines to the public. They'll start with 10 wines, emphasizing Italian and French varietals:
Cab Franc (from the estate)
Rosé (made from their Cab Franc)
Tempranillo
Syrah
Cabernet Sauvignon
Sangiovese
Riesling
Chardonnay
Sauvignon Blanc
Zinfandel
Until then, to generate buzz, they're entering wine competitions. And better yet, they're winning. Their first sip of success came in 2014 when 3 Horse Ranch Vineyards won a silver medal from Mark's Cab Franc grapes. Then in last year's Idaho Wine Competition, they won a silver of their own for their 2019 Rosé.
For Mark, the accolades are a reminder of all the people who have helped the Pascullis get this far.
"I think we all feel more thankful than anything," he says. "And, you know, we want to be able to then contribute to the industry as other people contribute to us."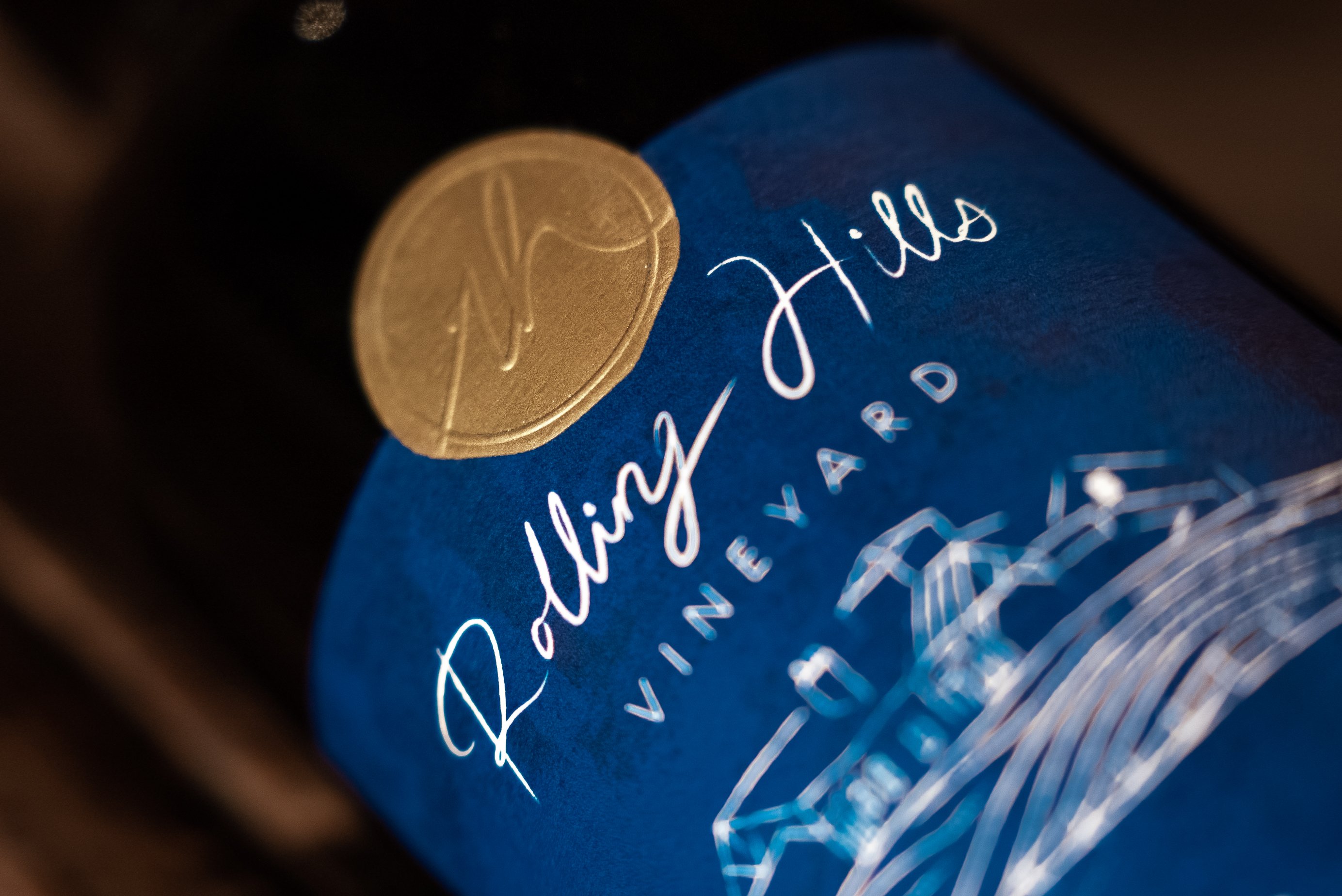 Family matters
Despite the support of the Idaho winemaking community at large, the heart of Rolling Hills Vineyard is family. Lori designed the tasting room (she also designed their house) and daughter Savanah will manage it.
Their youngest son, Zachary, a videographer, is in charge of photos and video content, which you'll find across their social platforms and website. They hope their eldest son, Daniel, who's currently stationed in Japan as a Marine, will join the operation when he finishes his service in December.
But perhaps the most recognizable family member is five-year-old doggo Bleu, who has become the official mascot of Rolling Hills.
"Bleu kind of runs the show," Mark says, laughing. "He loves to eat grapes. It's never hurt him, and you can't stop him."
This summer, he'll even have his own wine. "We're going to come out with a release called Mascot," Mark adds. "It's a blue bottle, and Bleu is on the bottle." Ten percent of all the proceeds will go to local animal shelters in Idaho.
"Bleu loves living out there and bouncing around his own vineyard," Mark describes. "Whenever harvest is going on or when everybody's pruning or doing work, he's out there running around."
While Bleu has the run of the estate, he'll be on a tighter leash in the tasting room.
"The problem is there's food," Mark explains. "Bleu is kind of a thief. He knows how to clear a plate when you're not looking. You've got to be on your toes the whole time."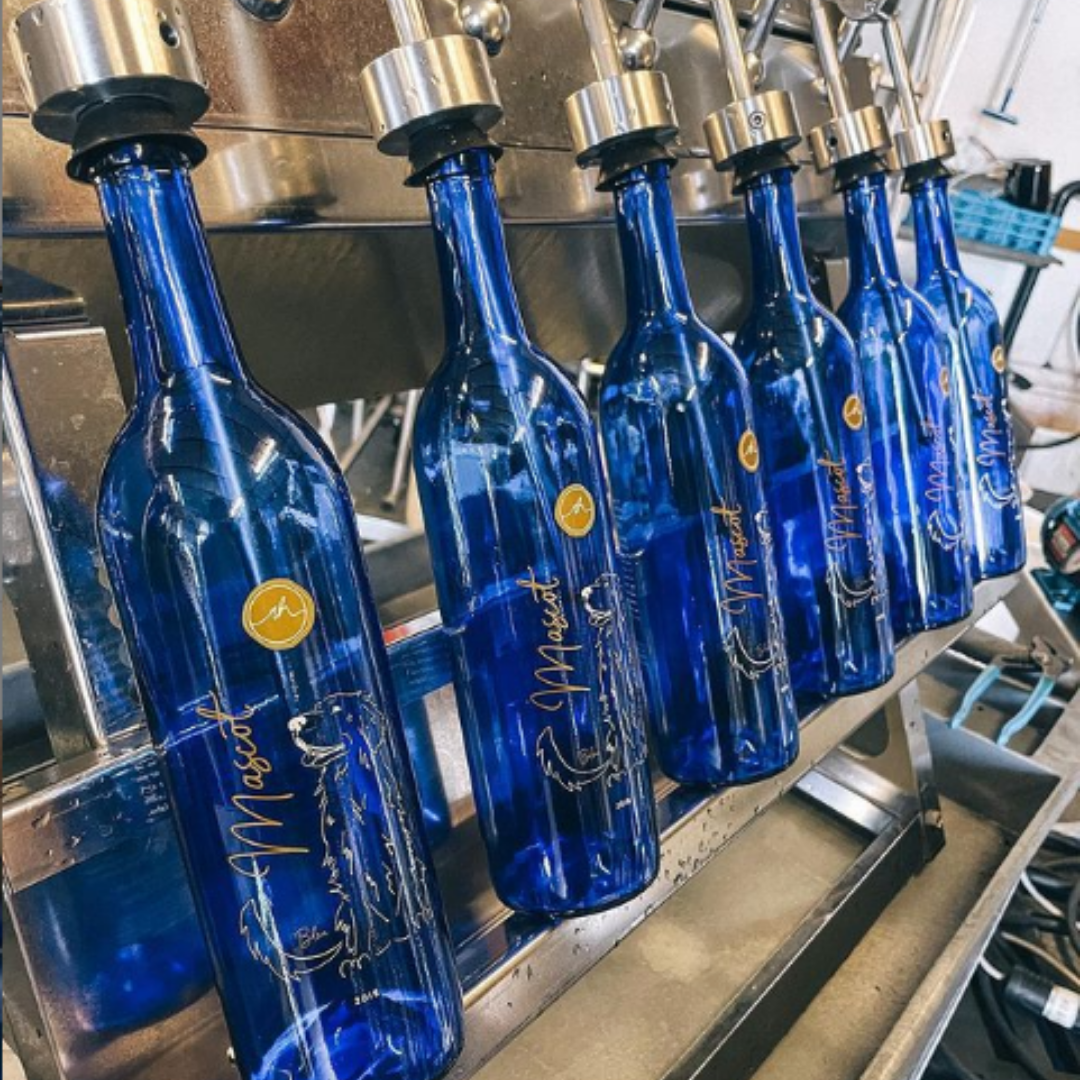 Sign up for more
Do you enjoy finding out new things about wine — and maybe a little something about yourself in the process? Then sign up to the blog and never miss another post, winemaker profile, and other exclusive content from the Idaho Wine Commission.Your blog post content here…