Discover the Delights of Idaho Wine in Winter
Posted by Idaho Wine Commission on January 19 2023
When you think of wine tasting, do you think of sitting on a sun-dappled patio in summer? Or perhaps you reminisce about the crisp fall air when wineries have just finished harvest? Why not expand your tasting experience into four seasons and discover the delights of Idaho wines in winter? It's the perfect season to pair your favorite wines with hearty fare or to enjoy sipping a great wine next to a cozy fire while making the most of winter's long nights.
This year we invite you to plan a weekend escape to one of Idaho's award-winning wineries and cideries during our 2023 Idaho Winter Wine Weekends. Participating locations will welcome you with special food and wine pairings, tasting flights, promotions, and fun activities—all in a cozy, welcoming atmosphere.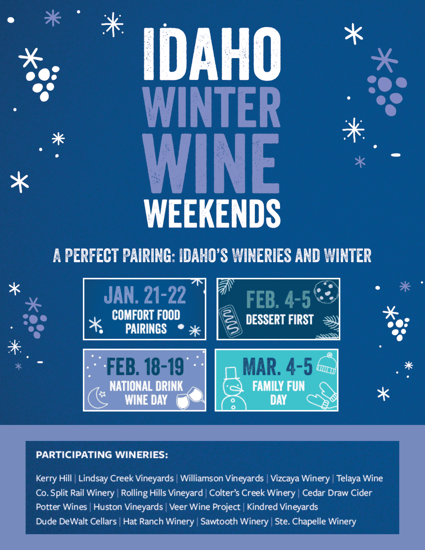 January 21-22: Comfort Food Pairings
Whether your idea of comfort food is a pot of chili, a charcuterie board, or the delights of a food truck, Idaho wines and ciders enhance the enjoyment of a great meal when it's cold outside. Participating locations have special pairings, food offerings, and a relaxing environment ready for your enjoyment. We can't think of a better time than the end of January to sit back, relax, and enjoy the comforts of great food and wine at one of Idaho's fabulous wineries.
February 4-5: Dessert First
Set aside the conventional this month as we invite you to eat dessert first—with recommended pairings of dessert and signature wines from participating Idaho wineries and cideries. Select locations will offer pairings to tantalize your taste buds with delectable combinations of wine and confection. If you're a dessert first person, this weekend was created for you.
February 5: Wine Tasting at Bogus Basin – Après Ski
And if you need more incentive to experience Idaho wine this winter, catch us during a break from the slopes at Bogus Basin on February 5th for an afternoon of wine-tasting with three Idaho wineries—Rolling Hills, Sol Invictus, and Veer Wine Project. These wineries will offer tastings to thirsty skiers, and then you can step next door and order a glass of your favorite at the Double R Ranch.
Next month we'll give you the scoop on two more great Idaho Winter Wine Weekends coming up, including National Drink Wine Day (February 18-19) and Family Fun Day (March 4-5).
There's never been a better season to visit Idaho wineries and cideries and discover our state's award-winning wine community. Learn why Idaho is getting national attention for its outstanding, classic varietals, exciting wine scene, and relaxed atmosphere. No matter the weather, Idaho Winter Wine Weekends are the perfect winter adventure! For a list of participating locations, visit idahowines.org/winter-wine-weekends.
Stay Connected
Get more information about Idaho wines, upcoming events, special offers and other exclusive content from the Idaho Wine Commission.