Today, we're going to talk about something you wouldn't expect on a wine blog: food. In retrospect, it's not that far of a stretch. Good wine and good food... rarely do you have one without the other. Half the fun of wine is exploring and experiencing all the flavors that a particular bottle brings. Add food to the mix and you've just doubled your fun — discovering the ways the flavors of both come alive.

With that in mind, we decided to join forces with Idaho Preferred® to bring you the best of what our state has on offer. Idaho Preferred® is a program of the Idaho State Department of Agriculture dedicated to identifying and promoting high-quality Idaho food and agriculture. Among the many things they do is show you where to buy local and what food is currently in season.

We combined forces and paired a handful of delicious and easy-to-make wine-and-food meals you can make at home. Try the recipes yourself and have fun exploring the ways each one complements the other.
Grilled asparagus & Sawtooth Fly Series Dry Riesling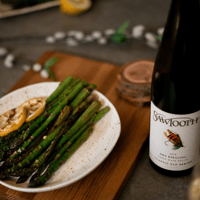 The slight sweetness of a Dry Riesling makes it the perfect accompaniment for roasted vegetables and veggies with inherent natural sweetness. It also balances well with bold flavors and lots of spice. So, don't be afraid to add a fourth clove of garlic. The Sawtooth Fly Series Dry Riesling marries flavors of peach, melon, pear and a hint of spice, giving it a crispy acidity and refreshing finish.

Potato pea salad & Indian Creek Mountain Syringa Gewürztraminer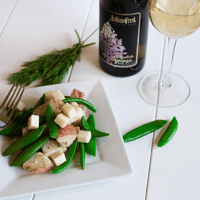 Named after the Idaho state flower, the Mountain Syringa is a very floral example of a Gewürztraminer, which can run from bone dry to syrupy sweet. This one falls on the dry side — making it an excellent food wine, especially for a deliciously light springtime dish such as this. As a general rule, white wines pair best with light-intensity meals or sides like this one.

Lamb locavore burgers & Colter's Creek Arrow Rim GSM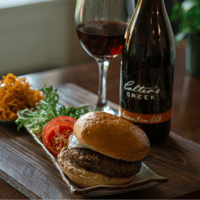 Bring on the big flavors! This recipe is for meat lovers and fans of savory spices. To stand up to such a bold dish, we're recommending a blend. GSM, which stands for Grenache, Syrah and Mourvedre, is rich, full-bodied and leathery — characterized by dark fruit and spice flavors. This one is no different: with a nose of wild blackberry preserves, olive tapenade, cedar, sassafras, and allspice, and flavors of dried black cherry, sage, black pepper, and anise. Arrow Rim pairs well with tomato-based pasta dishes, lighter wild game, or mushroom risotto.

Rainbow trout street tacos & Snake River Winery Albariño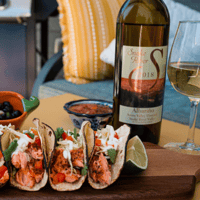 Rejoice, pescatarians! We're here for you. These rainbow trout street tacos are full of flavor and lots of attitude. The bright lime, bold chili and sweet-bitter cumin flavors are offset nicely with this citrusy Albariño, with notes of lemon, honeydew and grapefruit. Albariño, a coastal white that originated on the Iberian Penninsula, is a friend to all things from the sea — pairing exceptionally well with white fish and meats as well as leafy green herbs.

Strawberry rhubarb crisp & Ste. Chapelle Rosé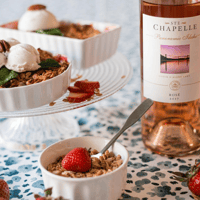 Make time to stop and smell the Rosés. With the acidity of white wine and the fruit character of red, Rosé is a favorite drink for summer. And is anything more summer than strawberries? It's a natural flavor combination in which the sweet strawberry and tart rhubarb pair well with the Ste. Chapelle Rosé, with aromatics of strawberry and almond that lead to flavors of strawberry and cranberry. Note: The sweetness level of this crisp will depend on your fruit. Since rhubarb gets sweeter during the baking process, you can't really adjust how sweet it will turn out beforehand.

Bon appétit!
Here in Idaho, we're particularly fortunate to be surrounded by all this natural beauty that also produces so much sustenance from the ground up. These recipes are just a few examples based on a few simple rules for pairing wine and food. There's a whole world of possibilities for you to explore. You can follow some of the guidelines we presented here, but don't be afraid to do your own thing.
Want seconds?
Did you enjoy this content? Never miss a blog post. Sign up for more mouth-watering recipes, profiles of your favorite wineries, special offers and other exclusive content from us — your partners in wine (and food too).