Scientists Working to Help Idaho's Vineyards
Posted by Idaho Wine Commission on November 5 2023
The summer of 2021 was the hottest summer on record in Idaho. The Idaho Wine Commission heard the industry express concerns about drought, the effects of climate change, and the availability of water as Idaho's wine community and the state's population both continue to grow.
Commission staff heard another theme that summer. Idaho vineyards needed help to understand the latest research regarding soil health. How could Idaho's vineyards be managed to make the soil as healthy as possible and to improve water infiltration and retention?
Enter Dr. Ed Lewis and Dr. Glen Stevens, who work with soil biology together on the University of Idaho campus in Moscow. Both work in the Department of Entomology, Plant Pathology and Nematology in the College of Agricultural and Life Sciences. Ed is professor and co-director of the Institute for Health in the Human Ecosystem and Glen is Laboratory Manager. Ed and Glen have worked together on soil amendments for growing several different crops including hops and vineyards. Their backgrounds and research interests lined up perfectly to promote soil health in Idaho's vineyards.
Step One: Greenhouse Research
Glen and Ed began their research on grapevines in greenhouse trials on the U of I campus. Their first goal was to ensure that any soil amendments they applied did no harm to grapevines. None of the soil amendments they tested harmed the plants, though some of the combinations had stronger effects on growth. Of course, their goal was to find amendments that would ultimately improve soil health and increase yields.
They tested combinations of three soil amendments, but ultimately settled on two that showed the most promise in terms of efficacy and accessibility for Idaho growers: biochar and a commercially produced soil amendment, Harvest to Harvest®, also known as H2H.

University of Idaho Professor Dr. Ed Lewis takes a soil sample at an Idaho vineyard.
A Centuries-Old Solution with Modern Relevance
Biochar is a carbon-rich soil amendment, made from burning wood or other plant materials. It looks a lot like charcoal. Inhabitants of the Amazon rainforest mixed biochar into their soils to enhance soil health; when these dark, carbon-rich soils were found by archaeologists, the soils came to be known as terra preta.
Although biochar has been used as a soil amendment for centuries, its relevance today is more important than ever. Biochar can be made from materials harvested from overcrowded forests where there is too much competition for water, which in turn causes stress and makes the trees vulnerable to pests. Crowded trees and excess brush from logging can also become fuel for catastrophic forest fires. Biochar can be produced from this excess and mixed into soils with low organic matter. The soil amendment increases the carbon content of soil, which leads to improved water infiltration, more moisture retention and other benefits. According to Ed and Glen, biochar has been used with beneficial effects in vineyards in Italy and in various crops, including grapes, in California. The effects can last for decades because biochar is an incredibly durable material; indeed, biochar additions to soil are recognized as a form of long-term carbon sequestration that may slow the pace of climate change.
A Modern Solution to Food Waste and Soil Health
If biochar is a soil amendment used for centuries, the second amendment Ed and Glen tested, H2H, is a uniquely modern one.
Harvest-to-Harvest® or H2H came about as a result of a much more modern problem—food waste. Made by a company called California Safe Soils, H2H is made from expired food collected from supermarkets. This soil amendment is made through a process of mechanically grinding, heating, and enzymatically digesting the food. The resulting liquid is then pasteurized, screened, stabilized, and homogenized. The final product—which looks a lot like chocolate milk—is an environmentally friendly and economical means of increasing microbial activity in the soil, which in turn improves soil health and increases crop yields.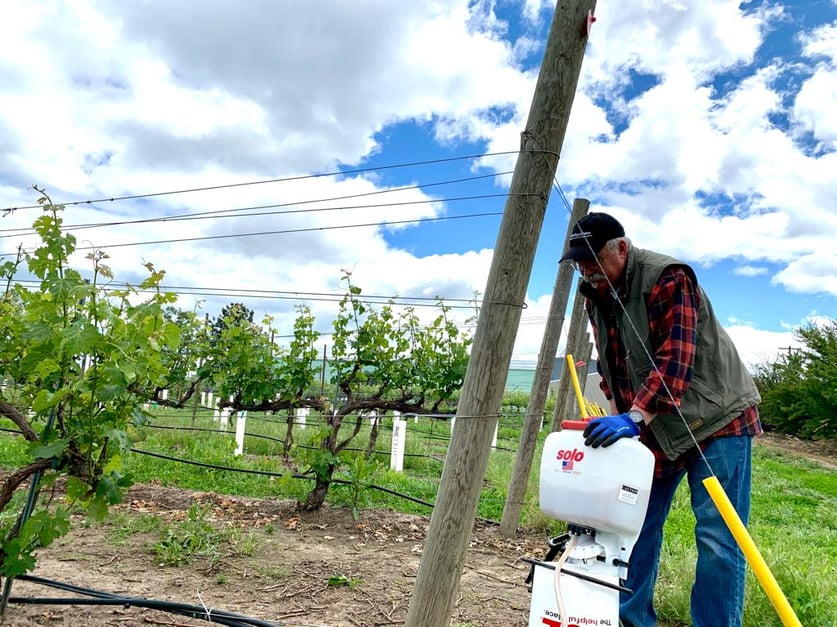 Applying Harvest to Harvest (H2H) as a soil amendment.
Field Trials Beginning Fall 2023
With their greenhouse research complete, the next phase of the research will apply the separate and combined soil amendments of biochar and H2H to vineyard soils at four Idaho vineyards who agreed to participate: Dude Dewalt Cellars in the Eagle Foothills American Viticultural Area (AVA), Bitner Vineyards and Fujishin Family Cellars, both in the Snake River AVA, and Colter's Creek in the Lewis Clark Valley AVA.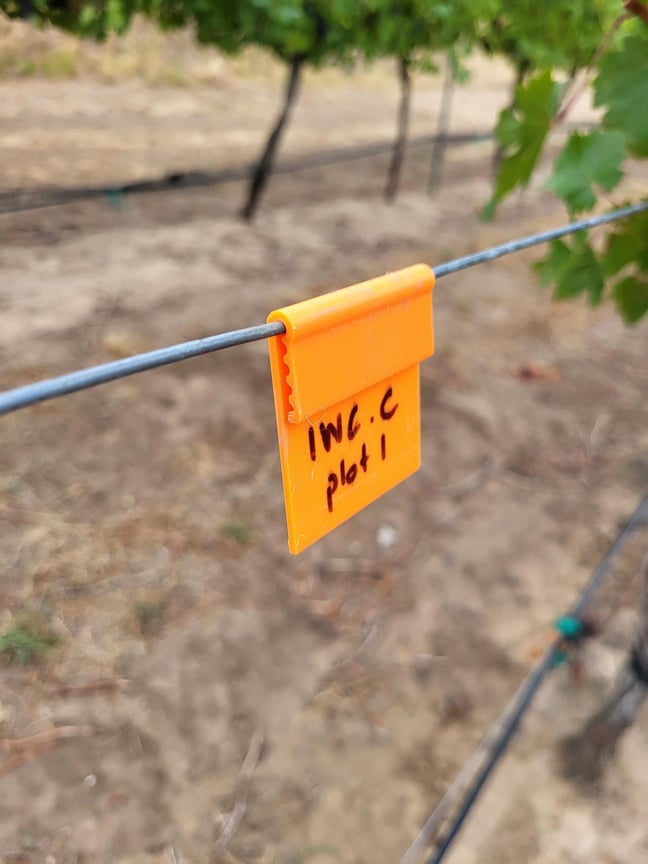 Colter's Creek vineyard tag.
Ed and Glen and their teams will apply the soil amendments following the 2023 harvest. They have already taken baseline soil samples at each participating vineyard, conducting both a nematode community analysis and testing the soils using the Haney test for soil health. Nematodes are a key and well-studied component of the soil food web, and changes in the types and numbers of these microscopic roundworms (whether they are plant feeders, bacterial feeders, or even predators on other nematodes) are important to soil health. The Haney test measures soil health on a scale from 1 to 300, with higher numbers indicating greater soil health. The Haney test is composed of a suite of separate tests that assess key elements in soil (carbon, nitrogen, phosphorous, etc.) as well as factors such as soil respiration and organic matter content. They plan to compare changes in soil health among the vineyards longitudinally over time, and they will determine how different soil types, among the various vineyards and AVAs, respond to the combined amendments.
Predicting Outcomes
Ed and Glen predict the combination of biochar and H2H will have a synergistic effect on soil health at the vineyards participating in their research. They believe H2H will increase microbial activity in the soil, and biochar will increase the soil's carbon content. Biochar should improve water infiltration; allowing water to flow into the soil rather than run off over the surface should increase the moisture available for vines through the growing season. By boosting microbial activity, H2H can increase the availability of nutrients in the soil. Biochar's unique structure can help to retain these nutrients in the soil, where they will be available for vines, rather than having them leach out of the rooting zone.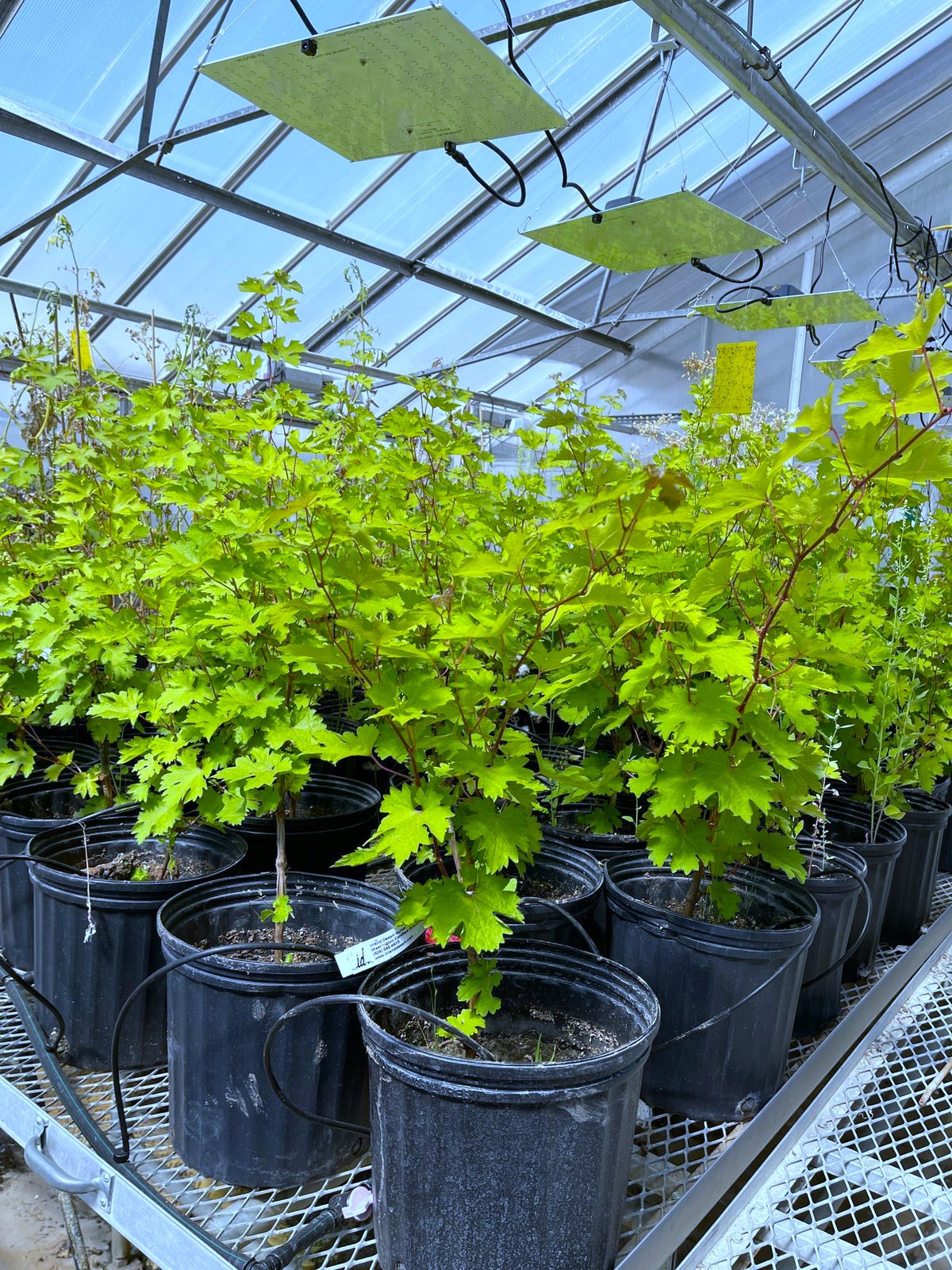 Grapes in the University of Idaho greenhouse where soil amendments for the study were initially tested.
Neither of these soil amendments is new. The goal of their research is to discover how to optimize the combination of them for vineyard owners. They note that both products are readily available and affordable. Thanks to funding from the Bipartisan Infrastructure Law, Restoration Fuels (a plant in John Day, Oregon) is making biochar available for free, minus transportation costs. H2H is already available in commercial quantities.
If the combination of biochar and H2H improves soil health like Ed and Glen believe it will, the beneficiaries will be Idaho's vineyards. They will have one more tool on their side as they adjust to changing weather patterns to grow the delicious fruit that leads to Idaho's increasingly sought-after wines.
Stay Connected
Get more information about Idaho wines, upcoming events, special offers and other exclusive content from the Idaho Wine Commission.